Hello, Friends of Kerr!
Portland's April has acquainted me with what locals affectionately dub "spring showers." Despite the damp weather, the amusing presence of my two new kittens during virtual meetings has added a touch of lightheartedness to my workday. It's been a busy and productive month at Albertina Kerr, so without further ado, let's get into it!
DUAL AWARDS HELP EXPAND PROGRAMS
We recently received word that Kerr has been selected as a recipient of a competitive funding opportunity from the Office of Developmental Disability Services (ODDS) to expand our employment and residential services programs. This is a great honor, as out of over 100 submissions for support, 55 programs were awarded, and we received two!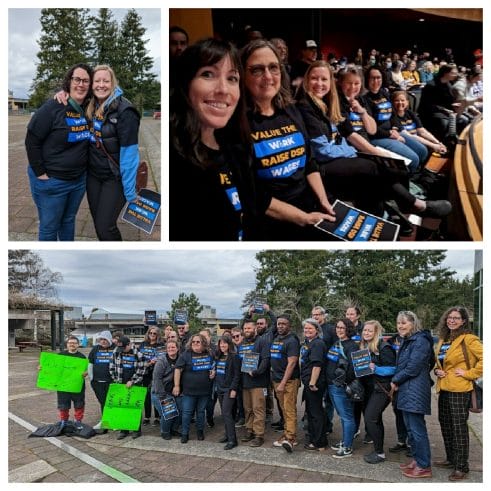 ACT NOW! JOIN OUR ADVOCACY EFFORTS
Our advocacy efforts are also in full swing as we work to secure increases in DSP wages. We have been actively reaching out to legislators to make our voices heard. I had the opportunity to provide oral testimony at the Joint Ways and Means Committee "Listening Session" Co-Chair Roadshow, which you can watch here.

The final "Listening Session" is May 3 in Salem, and Kerr's Chief Program Officer, Derrick Perry, will be signing up to give testimony. All are welcome!

Please contact your local legislators to help prioritize budget decisions. You can participate in the Oregon Resource Association's "Voter Voice" campaign with just a few clicks to send a pre-written email. Click here to send an email today!
PROJECT SEARCH GETS UNDERWAY IN SALEM
Our Project SEARCH interns had their official "Signing Day," kicking off their 9-month internship with the City of Salem. Their job training journey will take them through a variety of the City's departments, including Police, Fire, and Library. We're grateful for this partnership and excited to see what our talented interns will accomplish in the months ahead.
WEBINARS HIGHLIGHT KERR'S WYNNE WATTS COMMONS
I recently co-presented an online seminar for ANCOR (a national community-based provider advocacy organization), where we highlighted the work of creating inclusive and technology-forward affordable housing solutions for people with disabilities.

Kerr's Chief Information Officer, Craig Rusch, was also a panelist on Energy Trust of Oregon's webinar, discussing the innovative development of Wynne Watts Commons. This partnership is revolutionizing affordable housing by incorporating accessibility, sustainability, and affordability.
BUILDING A DEIBA WORKPLACE
I'm delighted to announce Kerr leaders will begin a DEIBA (Diversity, Equity, Inclusion, Belonging, and Accessibility) training series in May. These sessions will equip our teams with a step-by-step guide to creating an inclusive workplace where everyone can thrive.
MARK YOUR CALENDAR: KERR ON KGW
On May 11, tune in to KGW-Channel 8's "Hello, Rose City!" at 11 a.m. Dr. Naomi Fishman, Kerr's Medical Director of our Children's Mental Health Services, will join me to discuss our advocacy initiatives and our person-centered approach to providing crisis psychiatric care for children and teens. With May being National Mental Health Awareness Month, this is the perfect opportunity to learn how Kerr is making a difference in the lives of young people in our community.
Thank you for your continued support of Albertina Kerr. Together, we can positively impact those who need us most.
Sincerely,
Allison Stark
CEO, Albertina Kerr