Hello, Friends of Kerr,
As we step into November, I'm thrilled to share fantastic news brimming with positivity. I must admit, it feels a bit like the excitement of trick-or-treating with my kids. Just as they eagerly look forward to their candy haul, I'm excited to share our achievements of progress and success with you. (Photo above: Pictured with me is Kim Curry, a member of the Kerr Governing Board)
In October, we observed National Disability Employment Awareness Month (NDEAM), celebrating the incredible contributions of people with disabilities in the workforce and emphasizing the importance of building an inclusive community. At Albertina Kerr, we take immense pride in supporting and empowering individuals with intellectual and developmental disabilities to find meaningful work in the community. You can read about Molly's employment journey here.
I am delighted to announce that we have received a generous grant from the James and Shirley Rippey Family Foundation, longstanding supporters of Kerr, to support our Crisis Psychiatric Care for Youth Facility operations and building roof. Additionally, we have been fortunate to receive a substantial grant from First Tech Credit Union in support of our Crisis Psychiatric Care for Youth.
Volunteers from Enterprise Fleet Management recently rolled up their sleeves and dedicated their time and energy to staining the fence at one of our youth group homes.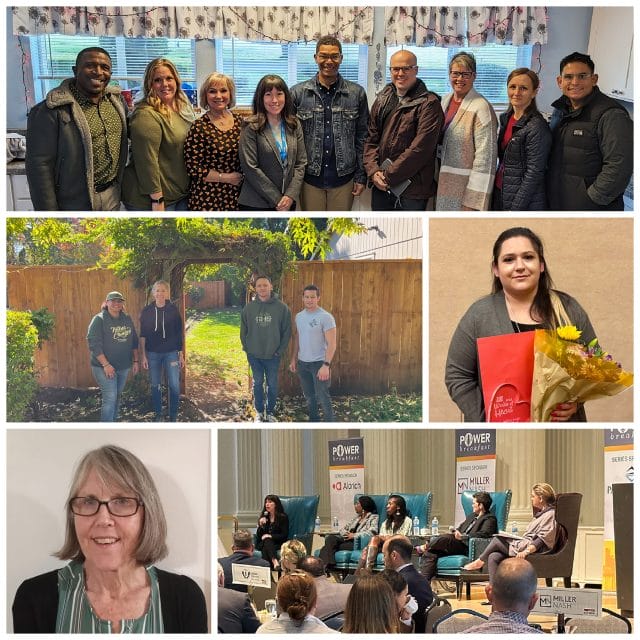 Their hard work has given this space a fresh, vibrant look that promises to brighten the lives of the individuals we serve. We are profoundly grateful for their dedication and enthusiasm. (Photo: middle, left)
I want to express my gratitude to the Portland Business Journal for using the October Power Breakfast as a platform to showcase the work of area nonprofits. I had the honor of sharing the stage with three other nonprofit leaders, engaging in a meaningful discussion about our city's philanthropic landscape, and exploring ways to collectively make a profound difference in our community. The conversation was truly motivating, highlighting the dedication of organizations working tirelessly towards a brighter future for all. (Photo: bottom, right)
Albertina Kerr is proud to be one of the top ten companies in Oregon's "Most Admired" list in the nonprofit category. These rankings are unveiled live at the event, and this recognition is a testament to our commitment and impact within our industry. The Most Admired Awards Event will take place on Thursday, December 7th at The Hilton Downtown Portland. You can find more details here.
I am thrilled to share that Ashley Smith, Assistant Program Manager in our Marion County group homes, has received one of the Oregon Resource Association's (ORA) Works of Heart Award. Out of 81 nominations, Ashley's dedication and contributions stood out. She has not only excelled in her role, supporting people with intellectual and developmental disabilities to make their own decisions, enhancing community participation, and providing leadership to her peers but has also been a tireless advocate for increased wages for Direct Support Professionals by representing Kerr in our work with the Oregon Legislature. (Photo: middle, right)
In addition, Erin Cochrun-Weston, Assistant Director of Kerr's Enrichment Services, is being honored with the Certified Employment Professional (CESP) of the Year Award from APSE (Association of People Supporting Employment First). This recognition distinguishes her as an exceptional Certified Employment Support Professional™ (CESP). Erin's advocacy for competency among employment support professionals and her ability to inspire others in their professional development have earned her this prestigious award. (Photo: bottom, left) Congratulations, Ashley and Erin!
Thanks to the Oregon Department of Human Services and the Oregon Legislative Assembly Legislative Fiscal Office for visiting one of our group homes to meet our clients and staff and learn more about services and supports for people with intellectual and developmental disabilities! We appreciate your time! (Photo: top)
Together, we are making a tangible difference. Your support remains an integral part of our critical work, propelling us towards our mission of empowering people to lead self-determined lives. Thank you for your unwavering support.
Sincerely,
Allison Stark
CEO, Albertina Kerr